DANGERS OF ACIDIC FOOD
Q: Are some foods potentially more damaging to tooth enamel than others?
A: Yes. Though dental enamel is the toughest substance in the body, it is susceptible to damage. Enamel is the thin outer layer of tissue that protects the tooth. Of course, enamel can crack from the force of a trauma—a blow to the face, chomping on a popcorn kernel—but it can also be affected in a more gradual way by what we eat and drink.
Food and beverages that are high in acid content can erode enamel. Most commercial soft drinks contain acid. Sipping on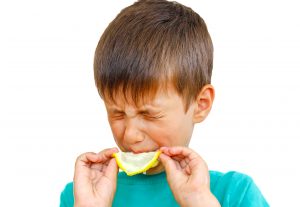 them over a prolonged period and holding them in the mouth is not good. The acid dissolves minerals in the enamel, making it thinner.
Foods that tend to cause more acidity include grains, sugar, dairy products, dried fruits, processed foods, and meats like corned beef. To prevent tooth erosion, wait at least 20 minutes after consuming an acidic food or beverage before brushing your teeth, so as not to damage the weakened enamel. If you're going to eat acidic foods, consume them in one meal, rather than snacking on them during the day.
If you, your family or friends need dental care, we would be honored to provide you with state-of-the-art dental care in our modern dental practice.  Refer someone you love to someone you trust!
Presented as a service to the community by Doctors Hoover and Yanda,
39 Milford Drive, Hudson, Ohio 44236. 330-650-0360. www.drshooverandyanda.com