DIGITAL RADIOGRAPHY
Digital Radiography is an exciting, new technology that offers many advantages over traditional x-rays.  Traditionally, dentists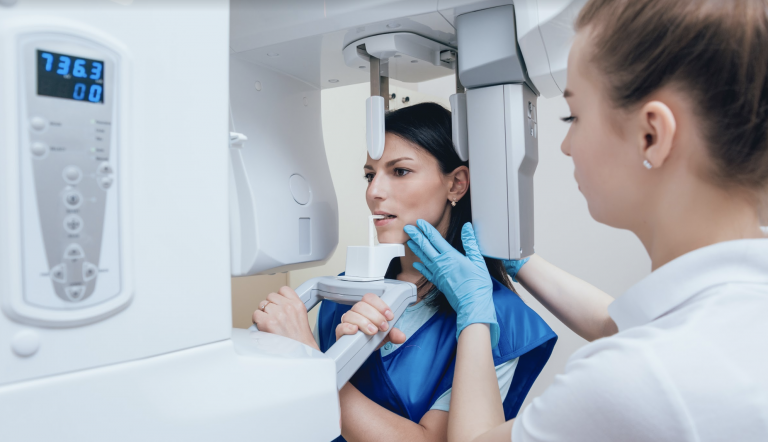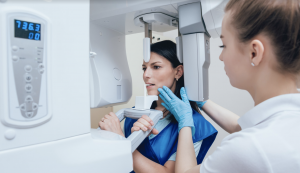 find out what's going on inside your mouth by taking a series of x-rays that need to be developed in a darkroom using strong chemicals.  After they dry out these small (usually about 1 square inch) films are viewed on a special lighted screen. This time-consuming process is no longer necessary due to Digital Radiography.
Instead of film, a tiny sensor is positioned briefly inside your mouth.  The sensor acts like a miniature camera that is sensitive to x-rays rather than light.  The images are instantly transmitted to a computer monitor where they are easily seen by both you and us.  The images can be magnified, the contrast and brightness can be adjusted, and any areas of concern can be "zoomed-in" on, making diagnosis much more accurate.  The radiation levels our patients are exposed to are now less than one-third of traditional x-rays. The chemicals that once were needed are no longer going into the water system, eliminating that form of pollution.  Images can be more easily stored, can be transmitted electronically to insurance companies or specialists and the problem of fading x-ray images over time is eliminated.
Digital Radiography has become an integral part of  "state of the art" dentistry in the 21st Century.
If you, your family or friends need dental care, we would be honored to provide you with state-of-the-art dental care in our modern dental practice.  Refer someone you love to someone you trust!
Presented as a service to the community by Doctors Hoover and Yanda,
39 Milford Drive, Hudson, Ohio 44236. 330-650-0360. www.drshooverandyanda.com