MISSING TEETH: BRIDGES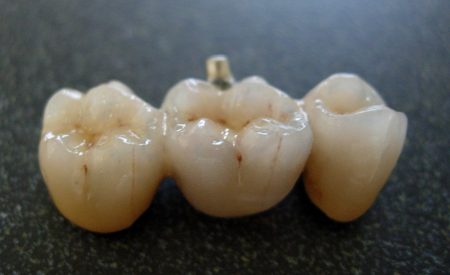 Did you know that the average adult between the ages of 20 and 64 has three or more decayed or missing teeth? If you are missing one or more teeth, there are plenty of reasons to correct the problem. For one thing, a large space between your teeth may affect how you speak or eat. Even if it's not noticeable, a missing molar can affect how you chew. Remaining teeth may shift which can lead to tooth decay and bone loss. Today, the ideal way to replace missing teeth is with implants. 
There are occasions, however, when implants either cannot be placed (for instance if there is insufficient bone in the area where the implant is desired) or when a patient does not wish to have implants placed. The next choice for replacing teeth, without the use of implants, is a fixed bridge. A fixed bridge replaces missing teeth with artificial teeth and literally "bridges" the gap where one or more teeth used to be. Bridges can be made from metal alloys (often veneered with porcelain) or more often today out of zirconium, a very strong tooth-colored ceramic. Fixed bridges are attached to surrounding teeth for support. Unlike a removable bridge, which you can take out and clean, a fixed bridge can only be removed by a dentist.
If you, your family or friends need dental care, we would be honored to provide you with state-of-the-art dental care in our modern dental practice.  Refer someone you love to someone you trust!
Presented as a service to the community by Doctors Hoover and Yanda,     
39 Milford Drive, Hudson, Ohio 44236. 330-650-0360. www.drshooverandyanda.com