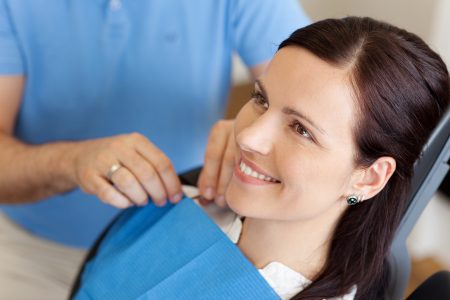 There are generally three phases to getting an implant:
First, the dentist surgically places the implant into the jawbone. Your dentist may recommend a diet of soft food during the initial healing process.
Next, the bone around the implant heals in a process called osseointegration. What makes an implant so strong is that the bone actually grows around it and holds it in place. Osseointegration means "combines with the bone" and takes several months, before replacement teeth can be attached to the implant.
Then it's time for the placement of the artificial tooth/teeth. For a single tooth implant, your dentist will customize a new tooth for you, called a dental crown. The crown will be based on size, shape, color and fit, and will be designed to blend in with your other teeth. If you are replacing more than a single tooth, custom-made bridges or dentures will be made to fit your mouth and your implants.
If you, your family or friends need dental care, we would be honored to provide you with state-of-the-art dental care in our modern dental practice.  Refer someone you love to someone you trust!
Presented as a service to the community by Doctors Hoover and Yanda,
39 Milford Drive, Hudson, Ohio 44236. 330-650-0360. www.drshooverandyanda.com